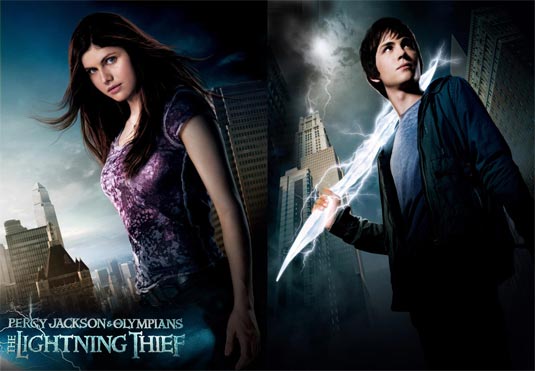 Starring: Logan Lerman, Uma Thurman, Pierce Brosnan, Sean Bean
Starring: Logan Lerman, Uma Thurman, Pierce Brosnan, Sean Bean
Director: Chris Columbus
once again a simple fantasy story decorated with some splendid animation(CG), Edge seat screenplay,and star performance keeps you entertained. yes, Percy Jackson movie though old in terms of story , doesn't fall flat. Chris Columbus ,the director of Harry potter I & II has once again succeeded in making a marvelous special effects movie.
Story
Sean bean,the Zeus god whose Lightning bolt have been stole by a Demi-god(god of sun,sea …etc) son. The god suspect the son of Poseidon(sea god) and gives him a dead line of 14 days to get back the lightning bolt else a war will be declared and the result is end of the world.
Ancient days demigod are born in world and led a normal human life,and so Poseidon god lived in world and has a son named Percy Jackson,but Percy hates his father and he is mom pet. In his high school life he face lot of problem on the stolen bolt,and in that fight he loses his mother and saved by his friend who is protector of Percy Jackson send by demi god. so he takes Percy to the place where all demi god sons are trained on various battle techniques.
Pierce Bros nan plays a key role as a trainer to all.(half men-half horse).with the help of his friends Luke,Anna Beth(girl friend), and his friend he travels to find his mother who is the hell(needs to find three pearls with mysterious map which has way to reach hell) and reveals the mystery who is the lightning thief.With the help of his father all ends well.
Strengths
It is the special effects that make you a edge seat fantasy thriller movie. the screen play is also tight and from the scene one it is interesting. Uma Thurman with a cameo (make up???) is awesome. Pierce Bros nan character is also interesting. All the scenes where Percy and his friends are trapped to find the pearl and coming out of the hurdles makes you bite the nails.(watch out climax and first pearl trap sequence) special effects work has to be applauded and 3 cheers for their CG team. Background score and the photography keeps the tempo. direction is also cheeky .Lead cast is good.
Weakness– some time the movie remind you harry potter and Narnia(half man-half horse), the bolt,three friends etc…. The story is also simple and the basic theme as been seen in lot of movies in past decades. Bros nan character could have been lengthen.
So the movie is surely a summer treat for children s . Special effect &fantasy; movie lovers …go for it!!!!! more than paisaa vasool entertainer.
Movie canvas punch: Percy Jackson is brother of Harry potter special effects
Verdict: 5/10( 3 for special effects, 1 for performance n photography,1 for direction)